With the
many different

"hard surface" flooring (e.g. hardwood, vinyl, tile) available for your home, the question is, "Should I get carpet in my home or replace it with something else?"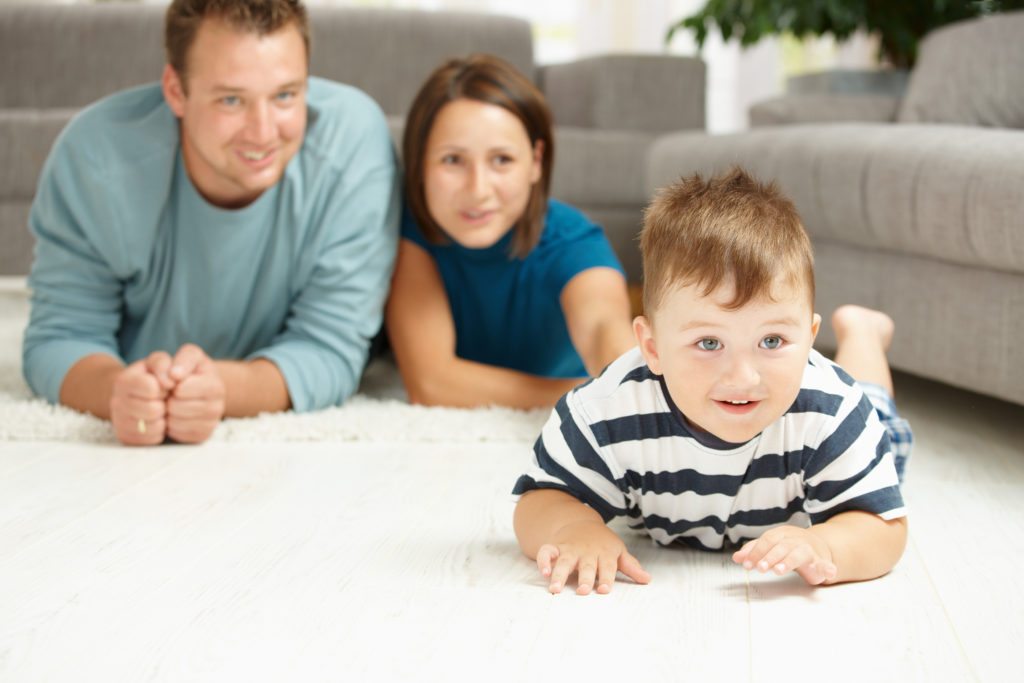 There are many great features about a hard surface floor, but before you think you should avoid carpet or immediately tear up your old carpet, consider these 8 reasons to keep your carpet, or even get new carpet.
Lower allergens
According to studies designed and evaluated by Dr. Bruce Mitchell, Airmid Chairman/CEO (a practicing allergy and immunology physician), the report revealed this: Researchers found that, even before the carpet was cleaned, the levels of allergens, including cat and dust mite allergens, were lower in the air over all of the carpets than over the hardwood flooring, even after both flooring types were repeatedly disturbed by activities such as walking or bouncing a ball.  See more here.
Economical
Given the price of installation and the cleaning supplies needed to keep the floor clean, carpet is less expensive to own and maintain, according to the spruce.com.  See more here.
Warmth
Whereas you might not choose carpet in every location of your house, a thicker carpet with a pad can help insulate the room and keep the air from sneaking out of the cracks of a hard surface floor.  "Dense carpeting with a quality bonded polyurethane padding beneath can create an R-value of 4 or more, meaning that the warmth carpeting lends to a room is a very real," as noted by Joseph Lewitin.
Softness
When in bare feet or just lying on the ground, you can feel the comfort of soft plush carpet versus a cold, hard floor.  I know my children like to play on the floor, and carpet is much preferred over any hard floor surface (unless roller skating!).
Quieter
"Hush, the baby is sleeping."  Hard surface flooring doesn't absorb the sound like carpeting.  Carpet will quiet the otherwise squeaky hard surface floor on the second floor of a home.  And with the baby sleeping, just maybe I might get more done!
Safety First
When we bought a house, the concrete steps to the basement were looking like they would be dangerous for all the children constantly going up and down.  Let's face it. For children or even adults, falling down on a carpet with pad underneath, I think, is preferred over a hard surface floor. And when you have multiple children who like to wrestle, fewer cries are a result of  carpet areas.
Earth-friendly
Old carpet can now be recycled into new carpet or other products.  According to Cleanlink.com, for example, out of 121 million pounds of worn carpet collected, 85% was recycled into new carpet. See more here.
Cleanable 
Of course, your hard surfaces are cleanable too.  But sometimes you might think that your carpets can't look new again or at least look good and presentable.  Good news! There are a lot of great cleaning products in the market and (shameless plug…) and Excel In Service for carpet cleaning is here to help you get the best price for the best value of carpet cleaning.  One of our favorite professional solutions is Encapuclean Green DS.  It is "Designed to suspend and release soils from carpet during cleaning.  Prevents wicking, yellowing, and recurring stains due to faster drying times."  It's also Green Balance and Wool Balance, safe for people and pets!
One final thought.  If you are wondering whether or not you should get the carpet professionally cleaned for spring cleaning or maybe for selling the home, here are four honest questions you might ask yourself, according to one real estate agency.
Do the carpets gross you out if you saw them the first time?
Would you want your bare feet touching your carpet?
Would you want a baby to crawl on the floor?
Would you feel comfortable eating off of this floor?
If you think you are ready for professional carpet cleaning, we are here to serve you with the best carpet cleaning, 100% money-back guaranteed.  And don't worry, we'll also clean your hard surface flooring!  Call us today 816-507-2275. We are here to get you happy with a smile about your carpets so that you can relax and enjoy your home with family and friends.