What window do you look out the most? Bathroom?  Kitchen? Living room?  Getting closer. Most likely it is your car windshield.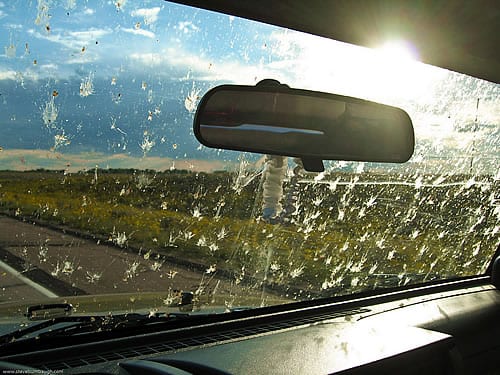 How many hours a week do you spend commuting to work, chauffeuring kids, running errands, etc.? You probably spend more hours looking out of your car windshield than any other window and yet how often do you clean it to the point that you are actually happy with the result? I sure don't do it often enough, and I am disappointed with myself every time I realize I let another week slip by without cleaning my windshields.
CLEAN WINDSHIELD…FINALLY!
I am going to share a trick with you that Brad from The Jones Store in Richmond shared with us. 0000 STEEL WOOL. This is the finest steel wool you can get, and it will not scratch your windows if you use it with water. [Warning: do not use on tinted windows and first test in an inconspicuous spot].
While some say you can rub steel wool on your windshields without getting it wet, just to be safe we use a little soapy water and steel wool to make our windows sparkle. It couldn't be simpler. Down at your local Ace Hardware or Walmart or The Jones Store you can get the quad zero steel wool (0000) and with a bucket of water and a little Dawn soap you can debug your windshield.
Get your steel wool wet and simply rub it in circular motions all along your windshield making sure to hit all the surface. The steel wool will remove all but the toughest hard water spots.  When you are done you can use a squeegee or simply a towel to dry off your window.
This will not only work for your car windshield, but also your house windows. Sometimes water and soap do not cut it, but steel wool always does the trick. Happy cleaning!  And if you need help with the window cleaning, we are here to help : ) 816-507-2275
Please call us today for a FREE ESTIMATE for cleaning your windows and carpets.  You can call, text or email us.  For all new clients we offer a FREE TRIAL of carpet cleaning (100 sq. ft.; some restrictions may apply). We are here to clean your home so you can relax and enjoy it with family and friends. Call TODAY.  816-507-2275.  And as always, thank you in advance for your willing to know, like and trust us. 
For more information about our precautionary methods through Covid-19, go here.
Need furniture cleaning?  Call us today for a free estimate for furniture cleaning (or some other cleaning, including windows!) or if you have any questions (816-507-2275). You can also email us at the contact page.