While gutter cleaning can be an easy job on the first story, it has its challenges especially for a second and third story.  
What you don't see in the gutter
(all the leaves, sticks and mud)
could be damaging to your house with improper flow of rainwater. 
Even rodents can make a little home within a clogged gutter.  I've seen little forming trees grow out of a gutter that was completely cleaned the previous year.  And the gutters even had gutter guards!!  Gutters without good flow of water can damage the roof, walls, foundation and landscape.  This can also lead to sagging gutters, mold, basement leaking and damage to floors and carpets! Let's avoid this damage and extra costs! Get them cleaned today.
Seven Tips to Hiring a Gutter Cleaner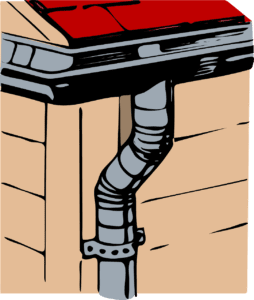 But before you hire someone to clean your gutters this spring, here are seven tips to guide you in making your choice.
Does the company have General Liability for this work?  They should be willing to show proof of this insurance.

Be sure that the company will protect your gutters if needing to rest a ladder against them.

Will they show pictures of the clean gutters?  Be sure to ask them to provide photos of the clean gutters, as desired.

Are both the gutters

and

downspouts clear?  Be sure that they can prove that the downspout is clear, and that water will run smoothly from off the roof and on to the ground through the downspout.  Any rain guarantee?

What are your expectations for the cleaning?  Be sure to ask about the process of the cleaning.

If there is leaking from a gutter joint, it may be best to wait for the gutter cleaning when it is dry.  That way, the gutter cleaning tech can apply the right sealant to the cracks.

Will your gutter cleaning tech keep you on a schedule to maintain your gutters?  Gutters typically need to be cleaned 2-3 times a year.  
At Excel In Service, as we provide carpet and window cleaning services, we also provide phenomenal gutter cleaning to protect your home as you enjoy it with family and friends.   In our inspecting of the gutters and cleaning of them, we'll try to answer all of your questions as best we can and provide a peace of mind that your gutters will be unclogged safely from leaves and needles.  100% money back guarantee!
As needed, after removing debris, we'll flush your gutters with water to remove the gravel collected from the roof.  Our recommendation is to clean the gutters at least twice a year (fall and spring). Even if you have gutter guards, the gutters can still collect debris that need regular cleaning.  Remember the little tree!
If you would like a FREE ESTIMATE for cleaning your gutters, please don't hesitate to ask.  You can call, text or email us.  We are here to protect your home so you can relax and enjoy it with family and friends. Call TODAY.  816-507-2275.  And as always, thank you in advance for your willing to know, like and trust us.