At Excel In Service we are trying to offer the best customer service in town. One key way of doing this is through the cleaning products we use in your home.
Do you want to know what is being used to clean your carpets? We think you do, and so we have chosen what is one of the best cleaning products available for low moisture cleaning.
Let me introduce you to Encapulcean Green DS.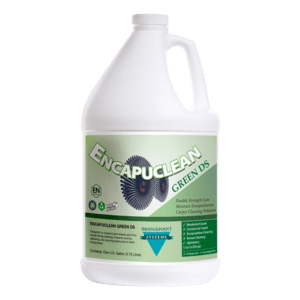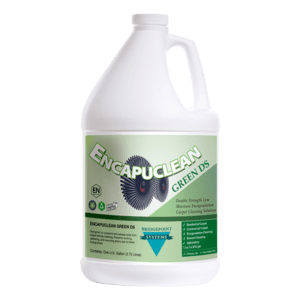 Now I could simply copy and paste all the information about this product (go here for more details), but let me just name the top FIVE REASONS we use this safe and effective carpet cleaning product for your home.
FIVE REASONS Encapuclean Green DS is one of the best cleaning products
Green. It not only cleans but it is "Green." It is "…formulated in accordance with the latest environmental guidelines for green cleaning chemistry…" Yes, this is safe for you and the pets to crawl around on!
Fast drying. It dries faster than many other products, usually within an hour. It also "prevents wicking, yellowing and recurring stains." And it "contains no alcohol or solvents to try and speed up drying." This allows you to enjoy your carpeting the same day! No long waiting periods.
Light, light fragrance. The pleasant fragrance is "Green" too. You can truly enjoy looking at your carpets while smelling them too!
Stays cleaner longer. After "field-testing," the carpet cleaning product not only cleans better than many other products, "… it maintained the improved appearance longer." Just call us when you need us (suggestion: every 3-12 months depending on your needs).
No more residue. Unlike the shampoos of some products, this product (the polymer) dries to a brittle crust on the carpet fiber. As it does this, it attaches to any remaining soil in the carpet. When vacuumed, the dry brittle polymer fractures away, taking the attached soils with it. Routine vacuuming is recommended in maintaining the look and feel of the carpeting.
Please call us today for a FREE ESTIMATE for cleaning your carpets.  You can call, text or email us.  For all new clients we offer a FREE TRIAL of carpet cleaning (100 sq. ft.; some restrictions may apply). We are here to clean your home so you can relax and enjoy it with family and friends. Call TODAY.  816-507-2275.  And as always, thank you in advance for your willing to know, like and trust us. 
For more information about our precautionary methods through Covid-19, go here.
Need furniture cleaning?  Call us today for a free estimate for furniture cleaning (or some other cleaning, including windows!) or if you have any questions (816-507-2275). You can also email us at the contact page.